Skip Navigation
Website Accessibility
Project Ideas

Did you know we have all our shop samples on our Ravelry projects page? You can see what we made, what yarn we used, how much it took, what tools we used, and any notes we made!




Sewing - Fen Dress

The weather is perfect for the ever popular Fen Dress, and we just got fresh patterns! Try it with Brussels Washer Linen, a flowy linen/rayon combo from Robert Kaufman. Like a print? Art Gallery Fabrics are a little lighter than regular quilting fabric, and they have some gorgeous prints. Like a little stretch? Pick a cotton knit fabric for a tee shirt version (just don't forget the jersey needles for your machine). Pro tip? I love a contrast print inside my pockets and for the neck binding...a half yard will be plenty. Got questions? Danielle has made an embarrassing number, so give the shop a call or send an email!




Knitting - Four Points Baby Blanket

Time for a knitting project! The Four Points pattern by Purl Soho is super flexible (and free), and can be knit in any weight yarn, you just have to adjust the stitch count. We made ours in a super bulky yarn, Pacific Bulky by Cascade for a quick finish, (click here for other super bulky choices) but if you want a longer project consider a chunky one with Kreamer Mauch Chunky (spun in PA!) or one of our other Chunkies, or even a worsted weight one in Malabrigo Rios, or any of our worsted yarns.
For our version, I cast on 47 stitches on size 13's...then followed the pattern based on that number. You start with one triangle, casting on the stitches for one long side, then decrease down to one stitch. For the next two triangles, you pick up and knit along a designated edge, and for the final triangle, you pick up and knit, then knit stitches together with the first triangle for zero seaming. It's all knitting (no purling or counting once you've cast on), and the decreasing triangle situation makes it seem quicker as you go - perfect mindless, soothing knitting. One ball of each color (Navy, White, Copper, and Silver for ours), and we've just re-stocked so we have some good choices! It's a small-ish blanket, see my feet for scale, and would be a great stroller or car seat blanket, or a nice little lap companion for TV watching.


| | | |
| --- | --- | --- |
| | | |
Quilting - Cute baby quilt kit!

This adorable Wee Pals quilt kit from Blend Fabrics comes in 3 colorways - blue, pink and yellow. The kit includes everything but batting, thread, and the few hours it will take to complete. Finished size is about 30" x 44", a perfect little crib size! All fabrics are 100% cotton, and the kit has the center panel, borders, backing and binding, along with instructions. Talk about cute and simple! Here's Lisa with the kits - her verdict? "Even I could make this one!"
| | | |
| --- | --- | --- |
| | | |



Quilting - 3 Yard Quilts

How about a cute little lap quilt you can make with just 3 yards of fabric? We've designed two for you! Both use up almost every bit of three yards of fabric, and if you're thrifty with your cutting you can get your binding out of that too. We've also put together some great 3 yard packs of fabric for you! Look here for the regular cotton prints, and here for the batik ones. We usually only have a few of each pack, and many of the batik packs are one-offs, so don't hesitate if you see one you like. And of course you can put together your own three yards by browsing our fabric...we have it sorted by color, by theme (butterflies, floral, skulls), by style (dots, prints, solids), and by designer. You can put your choices on our design wall to see how you like 'em together!

The first pattern is a Square-in-Square quilt made by cutting squares & triangles, and the second one is Strip Squares, made with strips sewn into sets. Both come out at about 48" square. Click the links for PDF's.



Knitting - Chevron Baby Blanket

Juniper Moon Cumulus is re-stocked and seems like it's softer than ever. What better yarn to make the Chevron Baby Blanket? Another Espace Tricot free pattern, we love this one for its flexibility...you can do 2 colors or 10, you can use any weight yarn, you can adjust the size endlessly. Ours is knit with 3 colors of light-as-a-cloud Cumulus, and used just one skein of each color. The blanket is about 30" x 26", perfect for a car seat or stroller, and Lisa cast on 121 sts as per the pattern, and knit each color for 10 rows, starting and ending with the neutral. To make it larger, simply add 24 or 48 stitches to the cast on, and keep knittin' kitten! To do this, you will need more yarn, so think of either 2 skeins each in the 3 colors, or choose to add more colors.

Of course, you can knit this in any yarn! How about Cascade 220 Merino (SO MANY COLORS!), Berroco Ultra Wool worsted or Chunky (lovely solids), Berroco Sesame (for a more grown-up version), Noro Ito (bring the party! Just pick 2!), or Kraemer Perfection Chunky (the economy version). Adjust your needle size, number of stitches, and yarn requirements accordingly - ask us for help ;-)


| | | |
| --- | --- | --- |
| | | |


Embroidery - Cozy Blue Embroidery Kits

Our popular Cozy Blue embroidery kits have just been re-stocked! Grab one today, they contain everything you need to complete the project: printed fabric, threads, needle, hoop, and instructions. Try the Lunar for a beginner stitch project, or Full Heart Floral for an intermediate adventure. Or how about treating it as a meditation? Show Up, Be Kind is a great reminder for us all these days. Head on over to our Embroidery Kits section for all the choices!




Sewing - Take Along Tote

Patterns now in stock! Make this cute little tote in a couple of hours, and show off your favorite fabrics while you take your knitting on your isolation walk. Because we can all can knit and walk at the same time, right?

My pink one is made with Essex Linen Berry on the inside, and Rifle Paper Co. Primavera Rosa in Blush on the outside. Delish! We used 1" leather for the handles, and you need Pellon 101 interfacing and Peltex firm for the base, with a little circle of fusible batting to line the base. See amounts below!

The blue ones are Driftless Essex by Anna Graham of Noodlehead, with Yarn Balls in Bluestone by Dear Stella as the lining. There is one with leather handles, and one with nylon.




Knitting - Turtledove Sweater

Lisa loves her Turtledove! It's a free pattern by our friends at Espace Tricot. A fun knit, top down and knit in one piece, it calls for a chunky weight yarn. Danielle has knit it twice, it's addictive! Try it with Malabrigo Mecha for a hand-dyed version, Kelbourne Woolens Lucky Tweed (a new fave!!), Cascade 128 Superwash, or even Noro Ito if you want a colorful one. You're looking for a yarn with a gauge of 14 sts = 4", and Lisa has even done it on a tighter gauge for a lighter sweater (following the XL instructions). The pattern is sized XS-XL (with lots of positive ease!), and uses 750-1200 yards of yarn. It's roomy, stylish and you're going to want to wear it all the time. All. The. Time.

Here is Lisa (in her mask!) cutting fabric for orders in our old shop.
| | | |
| --- | --- | --- |
| | | |


Sewing - Microwave Cozies

At a time when we could all use a little comfort, how about whipping up some cozies for your bowls? These little guys go right in the microwave with your bowl or dish, and act like a potholder to help you grab your hot stuff. They're best made with 100% cotton fabric (we have lots of that!), and sewn with cotton thread, so nothing can melt in the micro. We also recommend Wrap N Zap batting, specially designed for this very purpose. Here is a wonderful pattern, the PDF is free but there is the possibility to make a donation to the designer. Here is my personal hack: for large, flat pasta bowls, cut your fabric 12" x 12" and make your darts shallower (1/2" wide x 2" rather than 1" x 2"). Also, use flannel for extra coziness!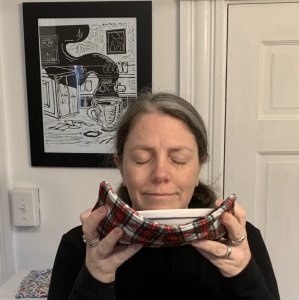 Knitting - The Shift Cowl by Andrea Mowry

We love Andrea Mowry's uber-popular Shift Cowl! We've made a few versions in the shop, our favorite is the Edition 3 version in the pic. Make a quieter version with Kelbourne Woolens Scout, a hand-dyed one with Madeline Tosh Tosh Merino Light, a luxe one with Manos Del Uruguay Fino, Fino Mini Skein Sets, or a funky one with Manos Alegria. Or browse our Fingering/Sock weight section or Sport Weight sections make your own choices!

The pattern calls for 600 yards, an equal amount of 3 colorways, but you can play with that easily! For our version, we used 3 colors of Edition 3: 2298 Blue Wash, 2361 Tante Emma, and 2296 English Garden, see middle pic. For another version, how about 2329 Strand Cafe, 2401 Sometimes Cheer, and 2349 Elements?

We only made a slight adjustment to the pattern as written, in order to maximize the yarn use. See our project notes on Ravelry.

We have the printed pattern in stock (and it comes with a Ravelry code to get it in your Rav library!).




Embroidery - Corinne Lapierre wool felt kits

These wonderful little self-contained kits are back in stock, with some new friends! And a contest!!

We've added a bunny family to the repertoire, and the adorable mouse family and llamas are back in stock. All kits have everything you need to make the project: felt, threads, stuffing, instructions, needle...it's all in there.

Reena has been home working away on a mouse family, check out how a couple of her pets have reacted!


Organize your projects

Got a mess in your sewing room/closet/box? Check out this blog post from Moda, and link to their downloadable PDF.

Moda Project Sheets


Sewing - Traverse Bag by Noodlehead
You know how much we love Noodlehead bag patterns by Anna Graham! The Traverse Bag is a cross-body bag in two sizes, with a top zip opening, a rear zippered pocket, inner slip pockets, and a large flap pocket on the front. Find the pattern
here
. We made it with 3/4 yard
Driftless linen
(also designed by Anna Graham!) with 1 yard of a bright yellow lining and piping and 1/4 yard of Essex linen in Midnight for the strap (the pattern calls for 3/4 yard for the lining and 1/2 yard for the strap & piping). Add a
3/4" bag hardware set
for all the clips and sliders, two
zippers
, and
2yds of woven interfacing
, and you're ready to sew. The perfect travel bag for when that's a thing again.
Knitting - Odila Cape in Mecha
The Odila Cape Pullover by Heidi May
is a cute, casual spring layer, knit top down in the round with no seaming (aside from sewing on the kangaroo pocket). I've been wanting to knit myself one (this is Danielle, btw) and thought our new
Mecha yarn from Malabrigo
would look very pretty. I ordered some nice silvery grey, but when this red came in I knew it was The One. I used about 5 skeins for the largest size, and had a little left over. It's knit on a US9 needle, so it goes pretty quickly!
You can order the pattern on Ravelry
here
. The pattern is written for sizes 2/3 toddler to size L adult (that's what I made).
Mecha
is a super soft hand-dyed single ply yarn, but Odila would be also fun in
Berroco Ultra Wool Chunky
,
Luminosa by Cascade
,
128 Superwash Merino by Cascade
, or
Bachi by Noro
.
| | | | | |
| --- | --- | --- | --- | --- |
| | | | | Sew a thread in to help you see where to sew the top of the pocket! |
Sewing - Ruby Star Sewing Machine Cover
Does your sewing machine need some love? Maybe it's earned its own jacket!
Sew
this cute machine cover with our handy kit
. We've included everything you need to make yours, fabric, ribbon, batting and pattern, and maybe now you have time :-)
Sewing - Happy Hemlock Tee
Have you always wanted to learn to sew with knit/stretchy fabric? No better time! We have a wonderful selection of cotton-based knits,
see them here
. Plus we finally found the tee shirt pattern of our dreams AND IT'S FREE!
The Hemlock Tee from Grainline Studio
is sized from 0 - 30, and has options for long, 3/4 & short sleeves, and three body lengths. It's a roomy drop-shoulder style, so it's flattering on many body types. You can get the pattern for free by signing up for Grainline's newsletter
here
(scroll to bottom). You print it at home, tape the pieces together, and cut out your chosen size to get the pattern pieces. The pattern is simple, well written, and has tips for sewing with knits. Win!
A tip when ordering fabric: the pattern gives fabric requirements based on 45" wide fabric, but most of our knits are 60". I made the medium length, 3/4 sleeve version (view B) in size 14 and 1-1/2 yards of fabric was plenty. Not that I'm discouraging you from buying more fabric.
And don't forget the
jersey needles
for your sewing machine ;-)
Sewing - All the Pillowcases
Our
Pillowcase Kits
are ready to go! Each kit has 3/4 yard for the main part, 1/4 yard for the end bit, and a 1"-2" for some piping in between, along with the full printed instructions (burrito style). Grab a few to make for (or with!) your kids. This is an easy sewing project and could be a great first sewing lesson!
We've put together some fun combinations (
scroll through them here
) but if you don't see one you like, simply browse our fabrics, order 3/4 yard + 1/4 yard + 1/4 yard* and we'll send you the pattern for free!
*that last quarter yard is optional, you don't reaaaaly need piping, we just like it!

Knitting - Fast Fade Cowl

How cute is this cowl? We were planning on having this as our May Knit-Along, but who knows what's happening in May?!?
The pattern is here, just $2 on Ravelry
. We used one of the
Cape May Fibers mini skein kits
, but it would be equally lovely in
Manos Del Uruguay Fino mini skein sets
or
Madeline Tosh Unicorn Tails
.
Quilting/Sewing - Cuddle Blanket

We've made heaps of these quick projects - 5 fat quarters, a vague formula for slicing them up, rearranging them, and sewing them back together, one yard of Cuddle for the back, and PRESTO! You've got a cute little project done in no time, with no quilting and no binding. Great for a last minute gift, but since most of us won't be going to any baby showers in the near future, this is also great to make up while you have time off & keep on hand for when baby showers are a thing again. Each kit has 5 carefully coordinated fat quarters, one yard of Cuddle, and the free pattern.
See all the different kits here!
Just want the free pattern? It's
here
.
Knitting - Slip Stitch Cowl

Lovely Noro Silk Garden in two colors -
one regular (mixed color)
and
one Solo (single color)
- make this cute and achievable cowl. And we'll give you
the printed pattern
for free (when you buy the yarn). We have several of the printed patterns in stock, and we can email you a PDF with yarn purchase.
If ordering online, DON'T add the pattern - we'll just send it!
| | | |
| --- | --- | --- |
| knit with Col 84 & Solo Col. 7 | | Knit with Cols 269 & 471 (regular Silk Garden) |


Embroidery - New Cross Stitch Kits!
Check out our brand new cross stitch kits from
Junebug and darlin
,
DMC
, and
Awesome Pattern Studio